http://www.thepetitionsite.com/624/591/280/premier-clark-listen-to-public-consultations-and-increase-education-funding-in-2015/

FOR IMMEDIATE RELEASE: February 25, 2015
Citizens' petition on education underfunding goes to the Legislature
VANCOUVER – Parents and citizens are dismayed by the provincial government's failure to respect the recommendations of the Select Standing Committee on Finance and Government Services concerning education funding for 2015. A non-partisan petition launched by Protect Public Education Now, FixBCEd and the Vancouver District Parents Advisory Council will be presented in the Legislature on February 26.
So far, the petition has garnered over 2,000 signatures, and it will remain open while the Budget is debated in the Legislature. Opposition MLA Jenny Kwan will present the petition on February 26th, during the second reading of the Budget. Marlene Rodgers, a parent and co-founder of Protect Public Education Now, says, "Public education is an issue that unites, rather than divides, British Columbians. People signing our petition have diverse backgrounds and politics. We appreciate the support of Ms. Kwan and the Opposition in bringing the concerns of citizens to the attention of the government."
Jennifer Stewart, who founded FixBCEd and sits on the Vancouver District Parents' Advisory Council, says, "The government claims to have increased education spending, but the 'additional funds' are simply those required to meet the terms of the new collective agreement, and do not cover the rising costs of inflation and other escalating expenses such as MSP premiums and Hydro rates. Further, the government has financed this 'increase' by stripping away $29 million from school boards' operating budgets, as well as $40 million in capital funding, and has reduced transfers to other partners who support K-12 education (such as public libraries) by over $30 million. School boards are being told to make do with less at a time when the government is boasting an $800 million surplus, increasing funding to private schools by $30 million, and providing a tax cut of $200 million to the wealthiest British Columbians."
Marlene Rodgers points out, "The failure to adequately budget for education will be acutely felt in April, when school boards all over the province announce further cuts to already reduced programming — and parents are confronted by the impact on their kids. Students stand to lose educational resources like special needs, music and sports programming, as well as teacher-librarians and other supports." This year the Vancouver School Board is anticipating a budget shortfall of $15 million.
On Thursday, February 26, the Vancouver District PAC is hosting an evening with VSB's Secretary-Treasurer, who will provide an overview of VSB's financial situation. All Vancouver parents are encouraged to attend, and to write to their MLAs. A template letter and a link to the petition can be found on the PPEN website, the DPAC website , and on FixBCEd. According to Rodgers and Stewart, "It is not too late for the government to do right by the children of this province and fund an excellent, universally accessible education system."
For more information, please contact:
Marlene Rodgers, Protect Public Education Now, 778-227-3840, marleneprodgers@gmail.com
Jennifer Stewart, DPAC & FixBCEd, 604-790-9929, jenniferjoanstewart@gmail.com
-30-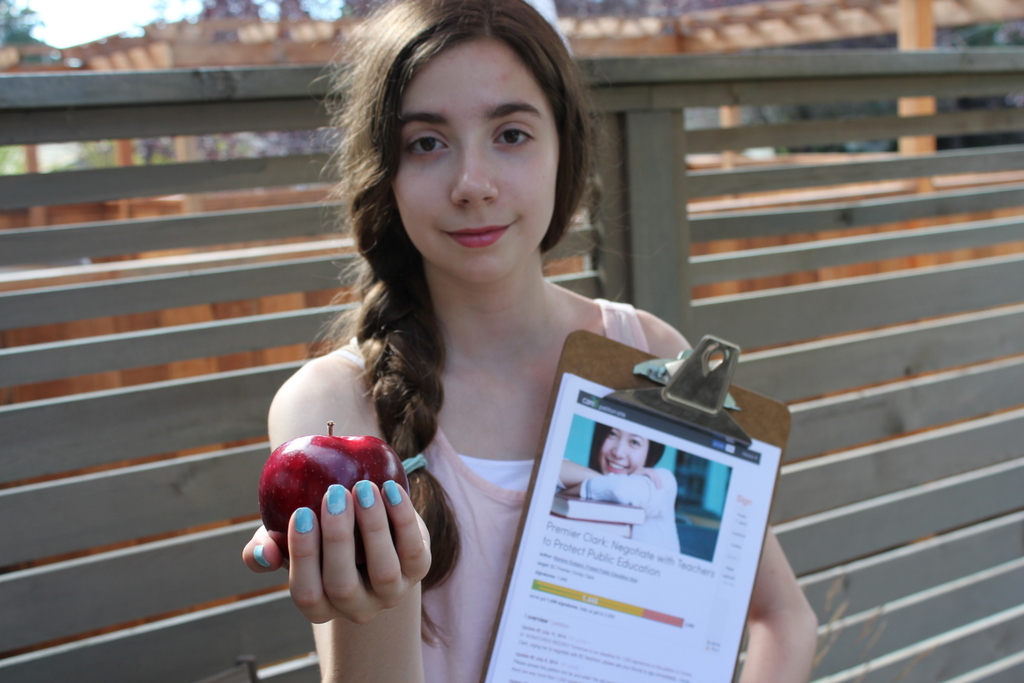 http://www.thepetitionsite.com/373/030/758/premier-clark-negotiate-with-teachers-to-protect-public-education/#sthash.aZrpJMiY.dpuf
August 31, 2014
PETITION TO CHRISTY CLARK REMAINS OPEN INTO SEPTEMBER – SIGNATURES ARE OVER 11,000
PPEN's petition to Christy Clark, urging her to negotiate with BC teachers, was delivered to the BC Legislature on August 25 by a delegation of children and parents, who were met by Education Critic Rob Fleming and MLAs Jenny Kwan and Andrew Weaver.  The petition remains open and will be redelivered periodically as long as the government refuses to negotiate in good faith with teachers.  Please keep sharing the link to the petition with family and friends.  We want every BC resident who agrees with our plea to the government to negotiate in good faith to have the chance to add her name to this petition.  Whenever this petition is given a push through social and traditional media, numbers escalate by the hundreds each day.  So let's keep pushing the petition, and pushing Premier Clark through all means – letters, petitions,  and rallys – to get children back to school.   OTHER PETITIONS:
http://www.change.org/en-CA/petitions/christy-clark-stop-using-public-money-to-fund-private-schools
https://secure.avaaz.org/en/petition/BC_Premier_Christy_Clark_Increase_funding_to_Public_Education_in_BC_1/?pv=1
http://www.change.org/en-CA/petitions/the-honourable-christy-clark-parents-are-putting-kids-first-by-supporting-our-teachers
http://www.change.org/en-CA/petitions/honourable-christy-clark-put-children-first-by-making-a-fair-deal-with-bc-teachers
https://www.change.org/p/premier-christy-clark-listen-to-our-children-s-teachers